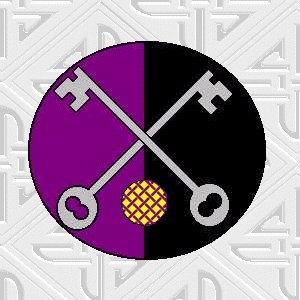 House of the Lost Keys is a household located in the Middle Kingdom of the Society for Creative Anachronism. It's home is the Barony of Redspears, located mundanely in Northwest Ohio.
Welcome to our new home! This site will be under construction for some time, since our illustrious webmistress actually got a LIFE, so please bear with us!
In the meantime, as you can see by the badge displayed so nicely above, the House of the Lost Keys has won the Award of the Purple Fretty! That's a Midrealm service award that's usually awarded to guilds, shires and other "official" entities of the SCA. So, we became like the 4th household in history to receive this award! Hoobah for us!


For our Frequently Asked Questions, Click here.



A list of current members and pledges can be found by clicking here.



Click here for pictures of us at play!



For a calendar of events we might be attending, click here.



Click here for links to other SCA groups all over the country!



For special thanks and acknowledgements, click here.




Questions or comments for the webmistress? E-mail her!